Commercial Grade Picnic Tables Built To Last A Lifetime In ALL Climates!
The Premier Advantage: Plastisol Coated Commercial Picnic Tables built with Durability and Stability to last a Lifetime in ALL Climates.
Premier Polysteel offers timeless beauty and unmatched durability with the Champion Line of commercial grade picnic tables that come in all shapes and sizes to meet your needs including:
Square Picnic Tables
Round Picnic Tables
Rectangle Tables
Oval Picnic Tables
Accessible for the Handicapped
Made Specially for Kids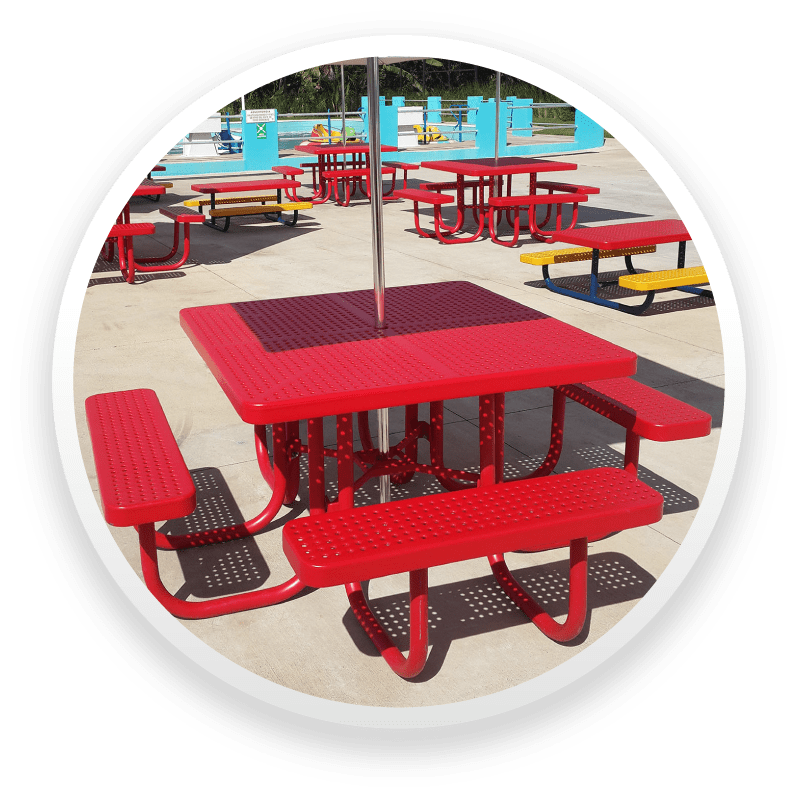 Plastisol Coated Steel Picnic Tables
Additionally, we provide naturally stain resistant fabric umbrellas and stands with UV protection that comes in a variety of types, shapes, and colors.  We offer twelve standard colors with a standard umbrella hole in most models. Custom colors are available. Choose from a variety of styles and mounts to fit your location.
Like all our other products, these tables exceed performance requirements with their 100% poly-vinyl coated frame.  Therefore, strong winds, high humidity, sand, heavy rain, and salty air are no match for the products you select from us. A 1/8+ inch layer of plastisol (poly-vinyl) is bonded directly to the metal. This also includes the legs and support braces! As a result rust and corrosion will NEVER be a problem since our products have no exposed metal. This process continues to be a time-tested winner.
Outdoor Furniture Built Tough
Furthermore, these outdoor commercial picnic tables boast
A walk-through design for comfortable dining on free-standing and multi-pedestal mounts
A wide base for stability
Unmatched comfort
…and they are very easy to clean!
With our Industry Leading 20 Year Warranty, Champion style outdoor picnic tables offer a durable and attractive addition to any location which will look great for many years to come!
Read about a plan designed to help place park furniture throughout your community: Outdoor Furniture Program Info
As a result of our high customer satisfaction, we have many, many returning customers. Just check out our Customer Testimonials page.