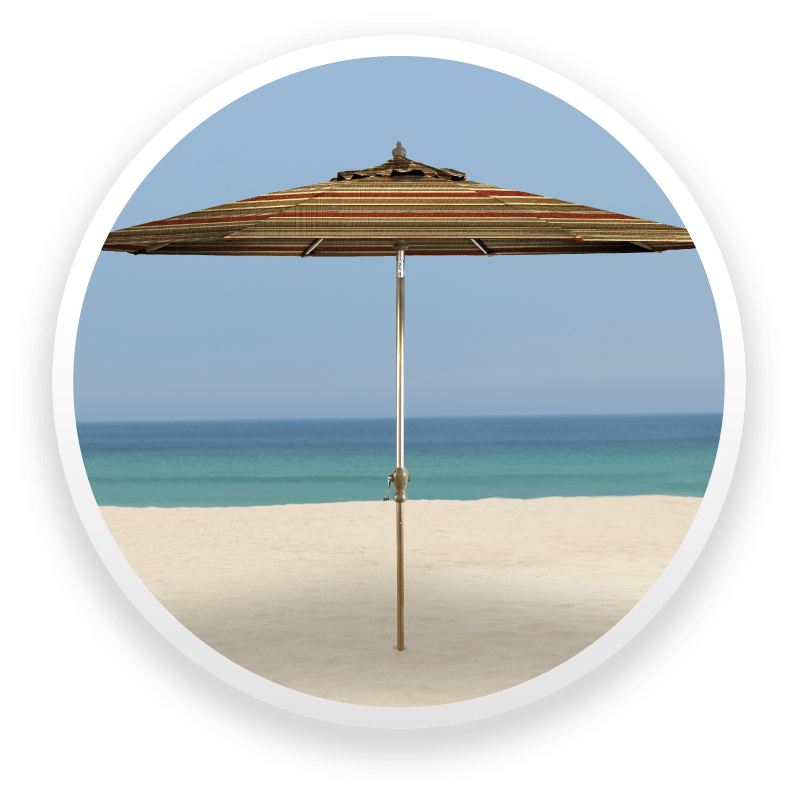 Attractive Contract Grade Umbrellas for Years of Durable Service
Commercial Grade Umbrellas Able to Withstand Harsh Weather
Enjoy the shade and added protection of beautiful Premier Polysteel umbrellas. Designed for use in hospitality settings such as restaurants, hotel pools, resort patios, country club outdoor dining, and ocean front properties, these commercial grade umbrellas provide years of durable service as well as a wide array of fabric and finish choices to complement the decor of any outdoor space.Furthermore, the fabric is woven from solution-dyed acrylic fiber, creating a soft, comfortable, and breathable surface with canvas-like texture. In addition, the solution-dyed acrylic canopy fabris is naturally stain resistant, and also easily cleaned. The colors and vibrancy of the canvas-like cloth will be retained for years.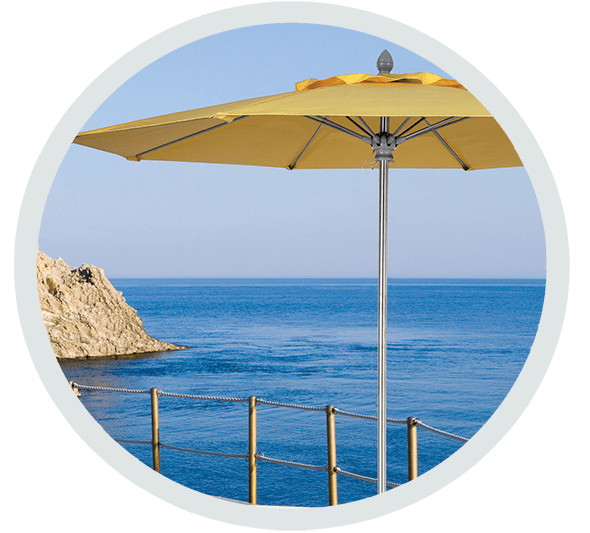 Market and Lucaya Style Commercial Grade Umbrellas
The 9 foot Lucaya commercial grad umbrellas feature a one-piece aluminum pole and fiberglass ribs with molded nylon joints and end tips. Standard canopies are made of marine grade, solution dyed acrylic. The 7.5 foot Market Umbrella also has flexible fiberglass ribs and molded nylon joints and end tips. Market umbrellas have a two-piece powder coated aluminum pole. What's more, custom options are available. Please contact us for more ideas!
Firmly secure the Market and Lucaya umbrellas with a Premier Polysteel plastisol (poly-vinyl) coated base in any of our twelve colors. At 22 pounds, the weight of this product offers great stability. In addition, it can be weighted by filling it with concrete. The maintenance-free accessory does not need assembly and will not rust or chip.
Frequently Asked Questions
How do I clean the cushion/umbrella fabric?
Sunbrella fabric should be cleaned regularly before dirt and other substances are allowed to accumulate on and become embedded in the fabric. Simply brush off any loose dirt, etc; hose down and clean with a mild natural soap in lukewarm water (no more than 100 degrees F). Rinse thoroughly to remove soap. DO NOT USE DETERGENTS. Allow to air dry. If you are cleaning a cushion, the fabric can be cleaned without being removed from the cushion. 
What about cleaning stubborn spots?
Soak the fabric for approximately twenty minutes in a solution of no more than 4 ounces of a non-chlorine bleach and 2 ounces natural soap per gallon of water at approximately 100 degrees F. Then rinse thoroughly in cold water to remove all of the soap. Note: Excessive soaking in non-chlorine bleach can deteriorate sewing threads. However, this method of cleaning may remove part of the water repellency and the fabric should receive an application of air-curing fluorocarbon water repellent treatment, such as 303 Hi Tech Fabric Guard, if repellency is a factor.
How should I store my cushions/umbrella?
Sunbrella is made from 100% Sunbrella Acrylic fiber which is thermoplastic. DO NOT SUBJECT TO EXCESSIVE HEAT. When Sunbrella fabric is stored, it should be cleaned, allowed to air dry, and stored in a dry, well ventilated area.
Loss or Damage in Transit: Premier Polysteel is released of all responsibility for loss or damage in transit by the bill of lading, which is our receipt from the carrier that the shipment was complete and in good condition. This bill of lading is forwarded to you at the time of shipment and should be checked carefully with the shipment when received by the consignee. Any shortage or damage must be noted and signed for by the delivering carrier.
Do you have representatives we can talk to?
Yes! Our customer service is second to none! On weekdays customers can reach us from 8:00 a.m. until 4:30 p.m.
Phone: (641) 324-2750
Email: sales@premierpolysteel.com
Questions? Chat With A Representative
Call us at 
1 (877)-746-3826
 to chat with one of our customer service representatives. We are available by phone during normal business hours.