HEAVY DUTY FIRE RINGS
Gather around the bonfire and celebrate with family and friends! The AFG80 heavy duty fire rings are the perfect addition to your backyard, park, or campground. Featuring a 15″ x 20″ cooking grate with cool spring handles, the fire ring is adjustable to four positions. This commercial fire ring is 6″ high and 31″ x 34″ around. A reinforcing post is across the pit. In addition, the unit is painted with heat and rust-resistant black enamel.
Three options are available:
Tilt back staple anchors (AFG80TB)
Spade anchor stakes for mounting stationary (AFG80SAS)
ADA compliant Accessible Fire Ring with a higher cooking height. It can be adjusted between 19″ and 24″ above ground (AFG80WCSAS)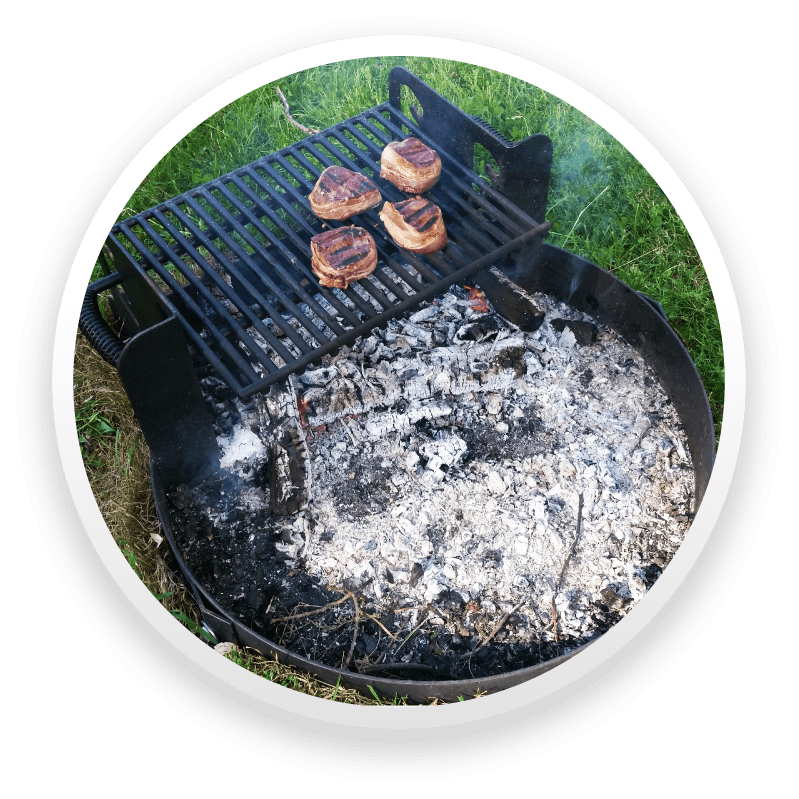 Frequently Asked Questions
How do I maintain my grill/fire ring?
It is normal for the grease and acids in the food to deteriorate the coating on the cooking surface; it does not need to be re-painted. It should be cleaned with a wire brush or a ball of aluminum foil before each use. The bottom should be periodically cleaned to keep the drain holes open. This will help extend the usable life of the grill. The sides, bottom and utility shelves of painted grills, can be wire brushed to remove loose material. Then a high temperature (1700 degree) black barbeque or grill enamel should be used. Primer is not used in this application.
Do the products come assembled?
To keep shipping costs low, most products are not assembled. Two exceptions include the one-piece 32 gallon round receptacle and the loop style bike racks. If you would like to have your products assembled here, we would be happy to do that. There is an extra charge for this. Please contact us if you need assembly prior to shipping.
Will the driver take my products off the truck?
If you need a lift-gate truck delivery (driver assisted unloading), please contact us when placing the order. This will be an additional shipping charge. Unless lift gate delivery is requested, it is the customer's responsibility to get the product off of the truck. 
Loss or Damage in Transit: Premier Polysteel is released of all responsibility for loss or damage in transit by the bill of lading, which is our receipt from the carrier that the shipment was complete and in good condition. This bill of lading is forwarded to you at the time of shipment and should be checked carefully with the shipment when received by the consignee. Any shortage or damage must be noted and signed for by the delivering carrier.
Do you have representatives we can talk to?
Yes! Our customer service is second to none! On weekdays customers can reach us from 8:00 a.m. until 4:30 p.m.
Phone: (641) 324-2750
Email: sales@premierpolysteel.com
Premier Grills & Fire Ring Guarantee
Our Guarantee: Premier Polysteel guarantees all materials workmanship (except labor, transportation and wood*) for one year, excluding vandalism, misuse, and acts of God. Claim for defects must be filed within one year, accompanied by a copy of original invoice or invoice number.
Questions? Chat With A Representative
Call us at 
1 (877)-746-3826
 to chat with one of our customer service representatives. We are available by phone during normal business hours.