Rugged Commercial Grade Outdoor Receptacles Built to Last In ALL Climates!
The Premier Advantage: The Best Commercial Grade Outdoor Receptacles on the Market Today
The rugged heft of Premier Polysteel's commercial-grade outdoor receptacles offers durable site solutions to contain trash in an attractive and low maintenance manner!
They come in the following sizes:
11 Gallon Receptacles
22 Gallon Receptacles
32 Gallon Receptacles
55 Gallon Receptacles
Additionally, this collection provides commercial quality products with unmatched durability in a variety of lid styles to meet your needs including:
Arch Lid
Flat Lid
Polydome Lid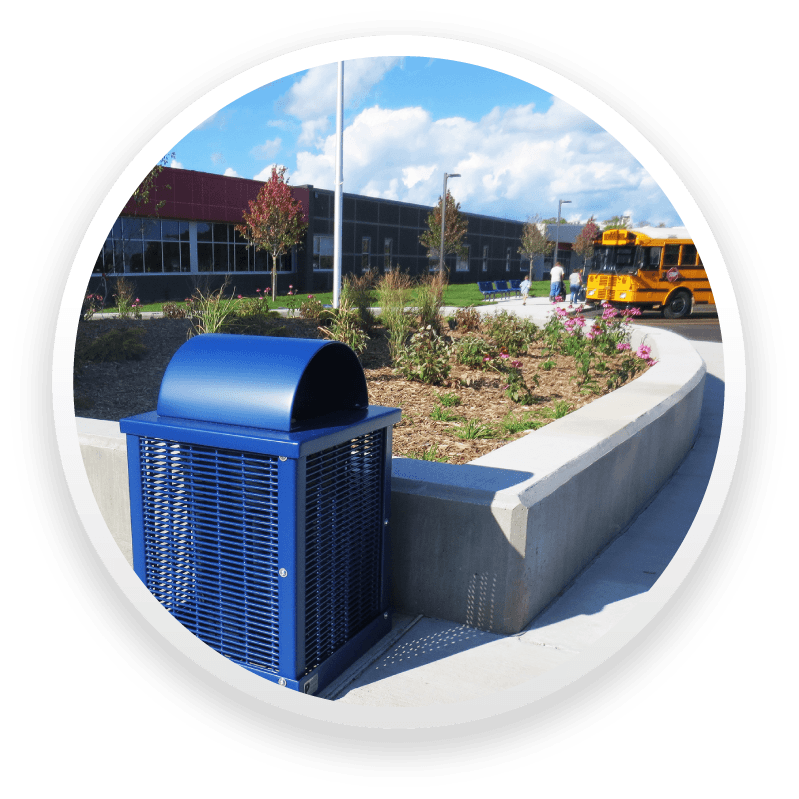 Commercial Grade Outdoor Receptacles
Built from 100% plastisol coated metal, the natural weight of these receptacles deters movement. The sturdy base ensures it will maintain its original shape for years to come. The baked-on UV protectant of the plastisol coated receptacle surface provides a smooth and fade-resistant finish. Even the harshest environmental elements cannot penetrate down to the metal. Rust and corrosion are never an issue!
We also provide an optional Direct Bury Kit.  The direct bury post bolts to the bottom of the receptacle for in-ground mounting.  It is also plastisol coated to match the receptacle. This option can be used for all receptacle styles. Click here to view:  Direct Bury Kit Installation Instructions.
For each of these products, we offer twelve standard colors with custom, matching colors available for larger orders.
Like all our other products, commercial receptacles exceed performance requirements with their 100% plastisol coated frame.  Strong winds, high humidity, sand, heavy rain, and salty air are no match for the products you select from us.  A 1/8+ inch layer of plastisol is bonded directly to the metal which also includes the legs and support braces, rust and corrosion will NEVER be a problem since our products have no exposed metal.  This process continues to be a time-tested winner.
With our Industry Leading 20 Year Warranty, our commercial-grade outdoor receptacles are a durable and attractive addition to any location which will look great for many years to come!  Furthermore, these products are very low maintenance and they are very easy to clean with mild soap and bleach-free disinfectants. It is safe to use a power washer on all our coated products.
As a result of our high customer satisfaction, we have many, many returning customers.  Just check out our Customer Testimonials page.
Questions? Chat With A Representative
Call us at 
1 (877)-746-3826
 to chat with one of our customer service representatives. We are available by phone during normal business hours.