Patio Furniture Cushions in Sunbrella Fabric
Patio Furniture Cushions in Sunbrella Fabrics Carefully Chosen to Match all Patio Furniture Colors.
Let the relaxing begin! The soft and comfortable chaise lounge cushions are custom made to fit the Premier Polysteel Chaise Lounge perfectly! The breathable Sunbrella Acrylic fabric has a soil and stain resistant finish. This canvas-like material will clean easily. The fabric is woven from solution-dyed acrylic fiber. Therefore, the color and vibrancy of the cloth will be retained for years. We offer twelve carefully chosen fabric options.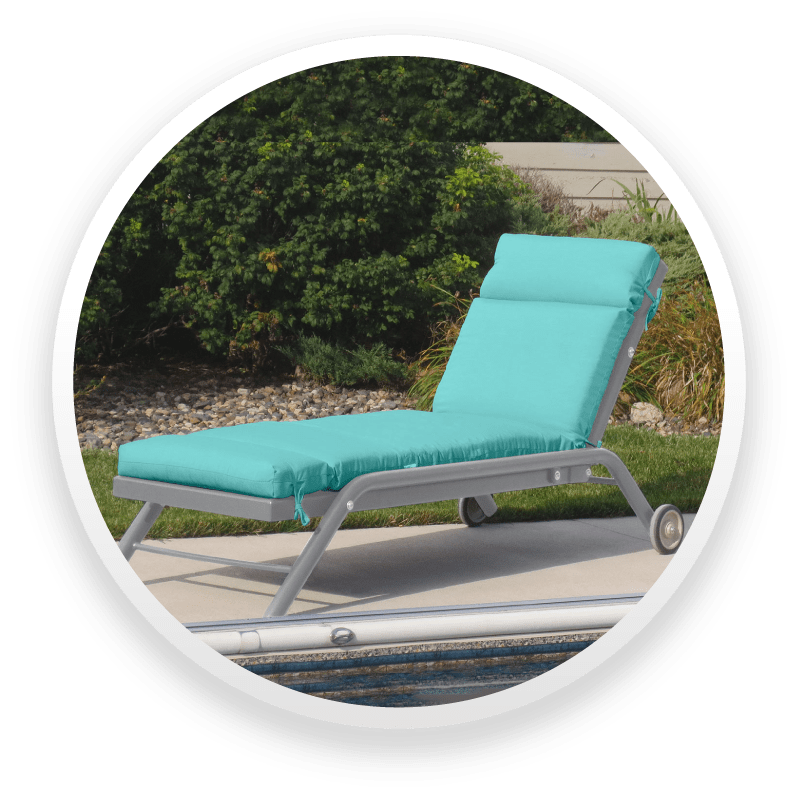 Beautiful Patio Furniture Cushions
Comfortable and beautiful custom fitting chaise lounge cushions will certainly offer that much needed relaxation! So that you can find just the look you love, we have carefully chosen twelve fabrics. However, more fabric options are available by contacting us.
As a result of our high customer satisfaction, we have many, many returning customers.  Just check out our Customer Testimonials page.
Just a quick note to let You know how much we enjoy our benches and tables! We leave some of the benches and tables out year-round for people to enjoy while their children are playing on the playground. The benches and tables withstand our 4 seasons very well and still look good year after year.…
Albert Lea Parks and Recreation is very pleased with the lounge chairs we ordered through Premier Polysteel. Pool patrons and staff loved that they were durable and easy to move. There was no fear of straps tearing or plastic breaking. When the Aquatic Center opened its doors for the day, these particular lounge chairs were…
Frequently Asked Questions
How do I clean the cushion/umbrella fabric?
Sunbrella fabric should be cleaned regularly before dirt and other substances are allowed to accumulate on and become embedded in the fabric. The fabric can be cleaned without being removed from the cushion. Simply brush off any loose dirt, etc; hose down and clean with a mild natural soap in lukewarm water (no more than 100 degrees F). Rinse thoroughly to remove soap. DO NOT USE DETERGENTS. Allow to air dry.
What about cleaning stubborn spots?
Soak the fabric for approximately twenty minutes in a solution of no more than 4 ounces of a non-chlorine bleach and 2 ounces natural soap per gallon of water at approximately 100 degrees F. Rinse thoroughly in cold water to remove all of the soap. Note: Excessive soaking in non-chlorine bleach can deteriorate sewing threads. This method of cleaning may remove part of the water repellency and the fabric should receive an application of air-curing fluorocarbon water repellent treatment, such as 303 Hi Tech Fabric Guard, if repellency is a factor.
How should I store my cushions/umbrella?
Sunbrella is made from 100% Sunbrella Acrylic fiber which is thermoplastic. DO NOT SUBJECT TO EXCESSIVE HEAT. When Sunbrella fabric is stored, it should be cleaned, allowed to air dry, and stored in a dry, well ventilated area.
Loss or Damage in Transit: Premier Polysteel is released of all responsibility for loss or damage in transit by the bill of lading, which is our receipt from the carrier that the shipment was complete and in good condition. This bill of lading is forwarded to you at the time of shipment and should be checked carefully with the shipment when received by the consignee. Any shortage or damage must be noted and signed for by the delivering carrier.
Do you have representatives we can talk to?
Yes! Our customer service is second to none! On weekdays customers can reach us from 8:00 a.m. until 4:30 p.m.
Phone: (641) 324-2750
Email: sales@premierpolysteel.com
Questions? Chat With A Representative
Call us at 
1 (877)-746-3826
 to chat with one of our customer service representatives. We are available by phone during normal business hours.