Heavy-Duty Commercial Bike Racks Built to Last a Lifetime in ALL Climates!
The Premier Advantage: Commercial Bike Racks built with Durability and Stability. They look great and are manufactured to last a lifetime in ALL climates.
Premier Polysteel Bike Racks will be the last you will ever buy! Our heavy duty, commercial quality products are completely coated with plastisol (poly-vinyl). Not only does this coating protect the bike rack against any outdoor elements, it also protects the bike from becoming scratched. Choose from our twelve colors of UV stable, mold and mildew resistant colors. We offer three styles in various lengths and a variety of mounting options.
Gate Style
Loop Style
T-Post Style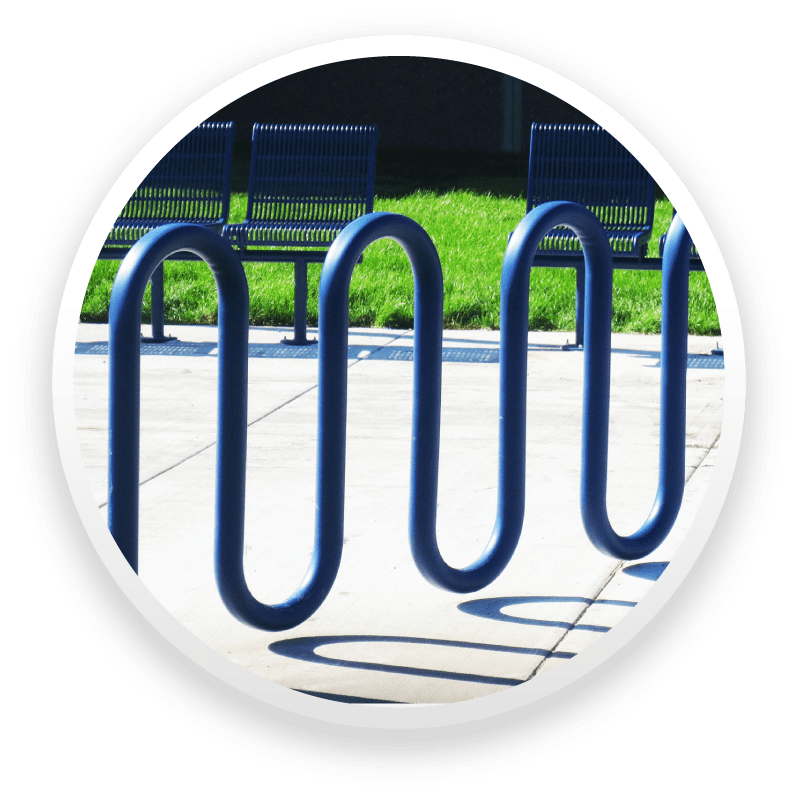 Commercial Bike Racks
The heavy-duty
Gate Style 
bike rack promises 200+ pounds of durability! This style is available in 5 foot and 8 foot lengths has two-sided bike parking. They accommodate up to 8 and 12 bikes respectively. Available in direct bury (in-ground) and free standing with a bolt down option.
Premier Polysteel Loop Style Bike Racks are built to last! They are offered in five lengths and two different installation styles. The loop style requires no assembly because it ships in one piece. Surface mount bike racks are made to mount on concrete. Direct bury bike racks are ready to put into the ground. Sizes range from single loop to five loops and fits up to 11 bikes.
The T-Post Style bike rack is 16 inches long and stands 36 inches high. The stable surface mount plate is 6″ x 6″. Simply bolt into concrete and it's ready to go! Best of all, it doesn't take up a lot of space. One T-Post accommodates two bikes.
We are so happy with the bike rack that was made for us by Premier Polysteel. It is so well-built and solid. Users don't have to worry about it tipping over when they park their bikes. When they lock their bikes in, they can be sure they're not going anywhere! And it won't rust, fall apart, or get bent out of shape like racks of lesser quality. We didn't have a bike rack before, so we like the fact that having it encourages people to ride their bikes to church and keeps the kid's bikes off the sidewalk. It's a fantastic bike rack in every way!
Questions? Chat With A Representative
Call us at 
1 (877)-746-3826
 to chat with one of our customer service representatives. We are available by phone during normal business hours.