Description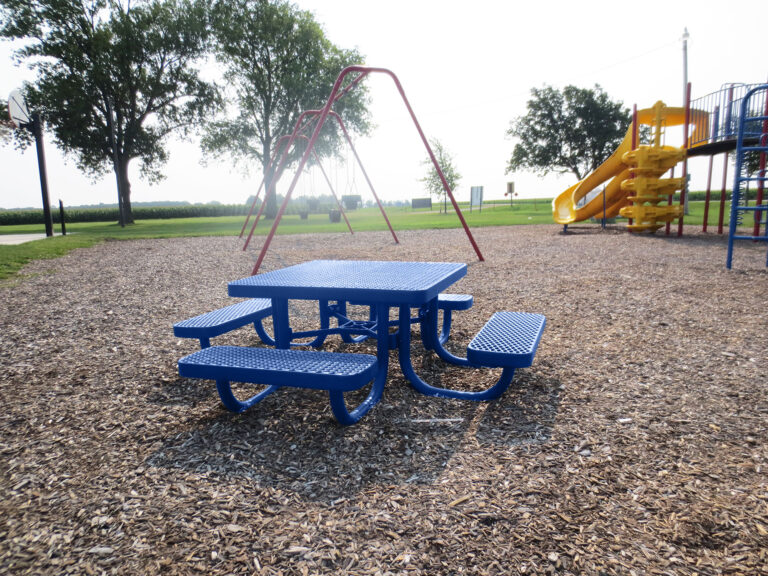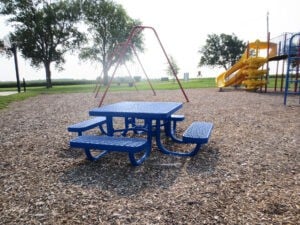 The square children's picnic table in our Champion Kid's picnic table style is made with the same high-quality standards found in all Premier Polysteel products. The expanded metal surface of the tabletop and seats have classic, diamond-shaped openings. What's more, is that they are all designed with safety in mind. All picnic tables feature a no-tip, walk-through design. In addition, there are no holes in any pipe that would allow access to bees and other insects. The steel tables have 1/8+ inch of plastisol (poly-vinyl) coating that is UV stable, mold-resistant, and compliant with worldwide plastisol standards. Furthermore, this coating covers the entire picnic table from top to bottom.
Kid's Picnic Table for Fun and Safety
Mix and match colors for a fun and bright look! Choose one, two, or three picnic table colors!
Comfortably seats up to eight children
No-tip, walk-through design
The diamond-shaped openings of the expanded metal surfaces won't hold water, therefore surfaces dry quickly after rain.
UV stable, mold-resistant plastisol (polyvinyl) coating meets worldwide standards.
No holes in the pipe to allow access to bees and other insects.
All freestanding picnic tables are portable. Surface mounting kits are available if you would like to bolt the table to concrete. The square children's picnic table uses size Small.
All Premier Polysteel furniture is completely coated with plastisol for protection against harsh environmental elements. This is why we offer a 20-year warranty!
Dimensions: 36 inch x 36 inch tabletop, 10 inch seat width, 68 inch x 68 inch overall. *Color Disclaimer: Actual product colors may vary from the colors shown on your monitor. Color samples are therefore available upon request.