Description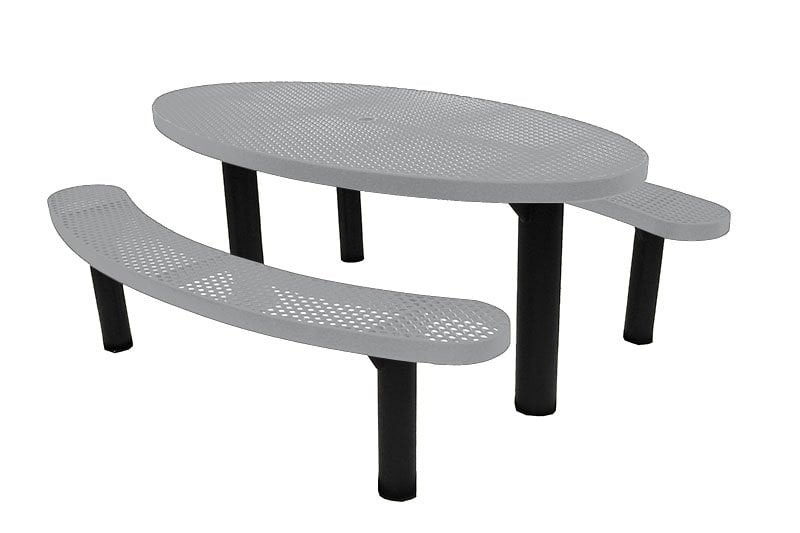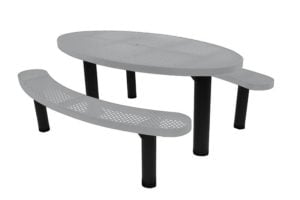 This attractive and very durable oval picnic table is a customer favorite! Because of the multi pedestal in-ground frame design, this table is extremely sturdy! The classic diamond-shaped openings of the expanded metal mean that the tabletop and seats will dry quickly after a rain. The UV stable, mold-resistant plastisol coating ensures your direct bury oval picnic table will look great for years to come! What's more, a thick layer of UV stable, mold-resistant plastisol completely coats the entire product. In addition, this coating protects it from harsh environmental elements. Also, the in-ground posts are coated! Because there is no exposed metal, rust is never a problem. Therefore, we are able to offer a 20-year warranty! Rust weakens the steel and shortens the life of outdoor furniture. Who wants that?
Commercial Grade Picnic Table Benefits
Easy walk-through design!
Gently curved seats comfortably accommodate up to six adults
Because it's all coated metal, there will be no broken or sagging seats and the tabletop is so easy to clean!
Easily clean with a power washer or hose using mild soap, then finish off with a bleach-free disinfectant. Done!
Strong, multi pedestal posts secured in concrete sturdily support the picnic table and seats
The tabletop and seats have the classic diamond-shaped openings. Therefore the surfaces will dry off quickly after a rain.
The center umbrella hole is standard on the multi pedestal picnic table. See our selection of umbrellas for the perfect match!
All our products are completely coated in UV stable plastisol – including the legs! The outcome is that no moisture is able to penetrate the steel.
In-Ground Oval Picnic Table Dimensions
The Champion 6-foot oval picnic tabletop has a center width of 36 inches. The gently curved seats have a 10-inch width. The entire picnic table has a 72-inch x 72-inch overall footprint. *Color Disclaimer: Actual product colors may vary from colors shown on your monitor. Color samples are therefore available upon request.