Description
Show your pride with a custom bench! The 4′ personalized bench is a perfect way to display the name of your school, community, or company name. If it's 13 characters or less, we can make it fit on the backrest! Just let us know what you'd like to say! The size of the lettering depends on the message's length.
We coat the entire bench with UV-stable, mildew-resistant plastisol (polyvinyl) that is compliant with worldwide standards.  Furthermore, even the legs have this coating! Bonded directly to the metal is a 1/8+ inch layer of plastisol. Therefore, rust will NEVER be a problem. High wind, rain, sand, salty air, and humid conditions are no match for this bench because of our process of coating the entire product. This continues to be a time-tested winner! It's the perfect solution for high-traffic areas.
The perforated steel seat design of the custom bench features a comfortable style and durability that you would expect in a commercial bench!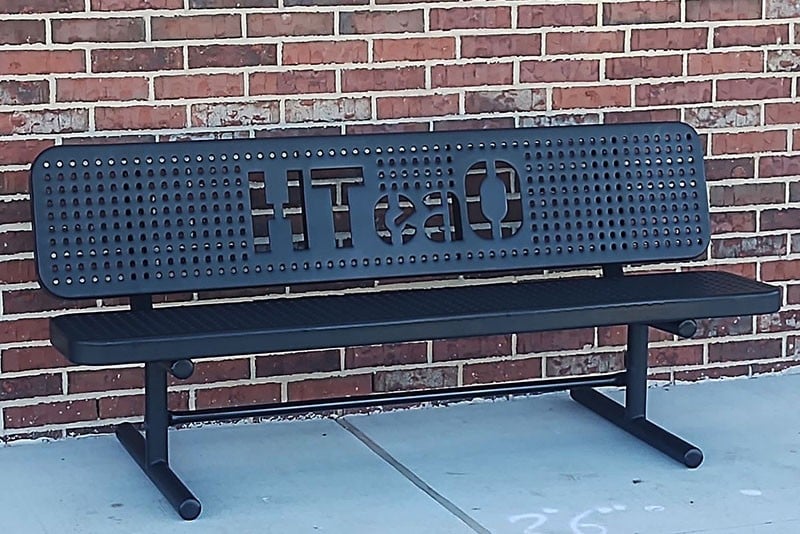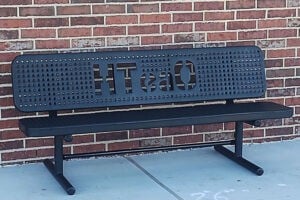 Features:
The heavy-duty metal seat and frame design ensure that the bench will remain stable and will not sag in the center.
The Supreme style seat is 5 inches deeper than the standard bench depth.
Coated perforated steel has openings of approximately 3/8 inch. The smooth surface allows for maximum comfort.
The openings in the seat allow the bench to dry quickly after rain.
A thick layer of UV-stable, mold-resistant plastisol protects the bench from harsh environmental elements.
We even coat the legs! Therefore, moisture won't penetrate the steel, so rust won't form which can weaken the steel.
Best of all – we offer an industry-leading 20 Year Warranty!
Commercial-quality personalized benches offer a durable and attractive addition to any location. Furthermore, outdoor benches require very little maintenance (no painting!) and are easy to clean! Our products are second-to-none in durability and strength and exceed all performance requirements.
All free-standing benches are portable. Surface mounting kits are available if you would like to bolt the benches to concrete. This bench uses a size Large.
Dimensions for the 4′ personalized bench:  48″ length x 15″ seat depth. Free-standing benches have a 27″ overall width. *Color Disclaimer: Actual product colors may vary from the colors shown on your monitor. Color samples are therefore available upon request.