The pleasure of relaxing at a picnic table, whether we're gathering with friends or enjoying a moment of solitude in nature, makes us uniquely human. Picnic tables remind us to slow down for a moment and share a meal or to simply enjoy the feeling of sitting outside on a beautiful day. After a brutal Iowa winter, we may be romanticizing a bit, but we think there's something special about the way picnic tables can transform any outdoor space. High-tech, complex park equipment may be entertaining, but a park wouldn't be a park without picnic tables. Add commercial picnic tables to your museum, business, or school to make your unused spaces more inviting. This humble object makes a community space a community space – not just a plot of land.
Generations of community members will be able to enjoy the heavy-duty picnic tables you purchase from Premier Polysteel. Our tables are guaranteed to withstand rain, humidity, and never-ending winters because they're made with poly-vinyl coated steel that never rusts. Strong UV rays in the summer won't dull the vibrant color of the table, but we recommend selecting one of our stylish, easy-to-clean umbrellas to protect people and add functionality to your space. Thoughtful design elements, like closed pipes, ensure that wasps and other insects won't become uninvited picnic guests. Quality construction is important for even the most basic equipment, which is why we design our tables to be incredibly stable. Check out the video below of six brave Premier Polysteel staff members jumping on one side of one of our picnic tables. Whether they have to stand up to wind, rambunctious kids, or six crazy co-workers – these tables aren't going anywhere.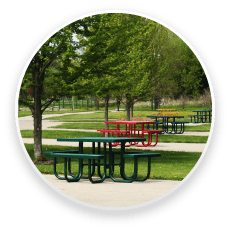 Choose the design that best suits your space, whether it's square, oval, freestanding, or surface-mount. We also offer tables designed specifically for children and accessible picnic tables – a necessity for any public space. If you aren't sure what to pick, give us a call. We'd be happy to help you select the best number, size, and shape based on your specific needs. We love helping our customers choose quality-built, long-lasting products that will provide innumerable benefits for many years. There's never going to be a time when you no longer need a picnic table. No matter what new equipment is invented in the future, people will always need places to gather together.
Shop our Picnic Tables Now!