Covered Grills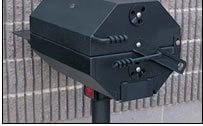 Covered grills keep rain and snow out of the firebox to prolong life of grill. Furthermore, the cover holds in smoke and heat.  A single level cooking grate is hinged to tip up for easy access to fire grate.  Also, the fire grate keeps coals off bottom of firebox.  This provides better draft control and prolongs life of grill.  The fire grate also tips up for easy ash clean out through side door.
Two sizes are available. Both have four draft vents and 360 degree rotation for heat and smoke control. These units are finished with a high heat, non-toxic, black enamel. For permanent in-ground mounting, both sizes have a 3 1/2 inch O.D. pedestal that is 40 inch long.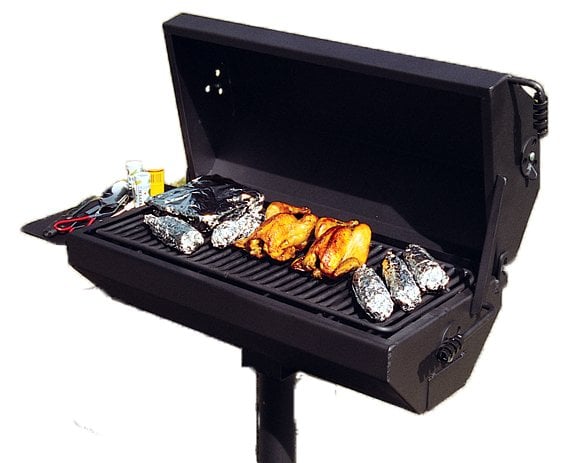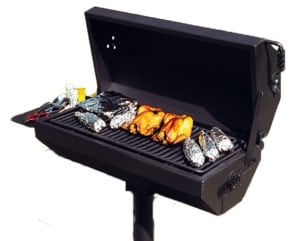 Each grill includes one 999-SUS bolt-on utility shelf. A portable castor base is optional.  999-PCB
Model 999-26 provides 320 square inches of cooking area. Dimensions: 19-1/2″ x 29-1/4″ x 16-1/2″, 145 pounds.
Covered Grill Model 999-40 provides 500 square inches of cooking area. Dimensions:  19-1/2″ x 41-1/2″ x 16-1/2″, 188 pounds.