Description
Packwaukee Veteran's Memorial Bench Program
This 6′ memorial bench is a comfortable, durable, and attractive bench chosen specifically for the Packwaukee Veteran's Memorial Project. The memorial plaque fastened to the backrest will provide a lasting tribute.
Features of the Commercial Quality Champion Supreme Bench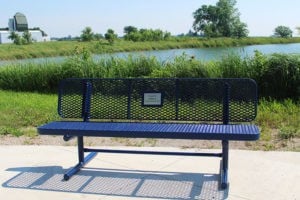 The 4″ x 6″ plaque is UV-resistant and rated for the outdoors. Your personal message will have a clean and clear look.
The heavy-duty metal seat and free-standing (portable) frame design of the 6′ bench ensure that the bench will remain stable and will not sag in the center.
The Supreme style seat is a full 5 inches deeper than the standard bench depth.
The classic diamond-shaped openings of the coated expanded metal seats allow the bench to dry quickly after rain.
Our products are completely coated from top to bottom with a thick layer of UV-stable, mold-resistant plastisol. This coating protects the products from harsh environmental elements.
We even coat the legs! Therefore, moisture won't penetrate the steel, so rust won't form which can weaken the steel.
Best of all – we offer an industry-leading 20 Year Warranty!
With your bench donation, you can help beautify the Town of Packwaukee while honoring fallen or currently active soldiers through the Packwaukee Veteran's Memorial Project.